Ashoka Cement Plant India is manufacturer of high - efficiency, cost effective, energy-saving Cement plants based on VSK technology designed and developed by our efficient and dedicated team of various individuals.
We offer Ashoka Cement plant from 100 TPD to 200 TPD. On turn key basis and have capabilities to undertake all aspects of cement plant construction, including feasibility studies, technical advice, equipment supply, field construction, supervisory services, commissioning etc.
. Environmental Friendly :
| | |
| --- | --- |
| | VSK cement plants are environmental friendly. The plant is well equipped with the appropriate pollution control device at every transfer point to ensure dust free operation. |
. For Execution of a complete project following services are included:
.Unique Features
. Benefits

Exceeds rated capacity.
Superb cement quality.
Use of alternate raw materials like Lime-Kankar, Murl-Lime, Sea Corals, Sea Shells etc.
Use of alternative Fuels like SLV- Coal, lignite, Petroleum coke etc.

Low Installed cost
Less Power Consumption
Ample fuel saving.
Shorter gestation period.
Easy in operation.
Negligible Maintenance.
Trouble free Technology.
. Salient Features
Incorporating secondary crusher optimizes raw material crushing mainly Limestone.
Introducing energy efficient Ball Mill System for reducing Power consumption.
Better Kiln design to prevent radiation loss.
Improved Rotary grate design for smooth and trouble free operation.
Preference to Bucket elevator in place of high power consuming Air lifts.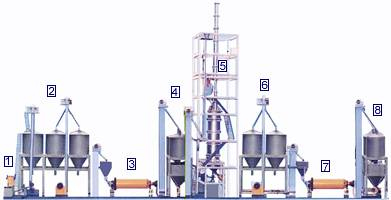 . Manufacturing Process
Crushing Section: - The raw materials mainly limestone, clay, coke are crushed in the separate crushers and stored automatically into the respective silos.
Storage & Proportioning: - The different raw materials are extracted from the silos in the desired proportion through table feeders and conveyed to raw mill.
Raw Milling: - The raw mix is ground into a Ball Mill at desired fineness to produce Raw Meal, and transported for Homogenizing.
Blending & Homogenization: - The raw meal is homogenized in the blending silos, and is stored automatically into a storage silo for feeding to the kiln.
Palletizing & Burning: - The nodules are made into a nodulisor and charged into the kiln for burning. The clinker after discharge is stored in the clinker yard through deep Bucket Elevator.
Clinker/gypsum crushing, storage & proportioning: - Clinker & Gypsum after crushing stored into the hoppers and extracted in the desired proportion with the help of table feeders and transported to the Cement mill Hopper.
Cement Milling: - The clinker & Gypsum mix is ground in the cement mill to produce cement.
Storage & Packing: - The cement is stored into the cement silos and aerated, tested and packed for dispatch
.Suitable Raw Materials
Limestone: - T.C.-90%, CaO - 50% min. (MgCO3 < 5%)

Clay: - Al2O3 - 14-18% (SiO2 - 60% max.)

Coke: - Calorific value: 4000 K Cal/Kg min.

Gypsum: - CaSO4.2H20- 75% min.
.Types of Cement Plants